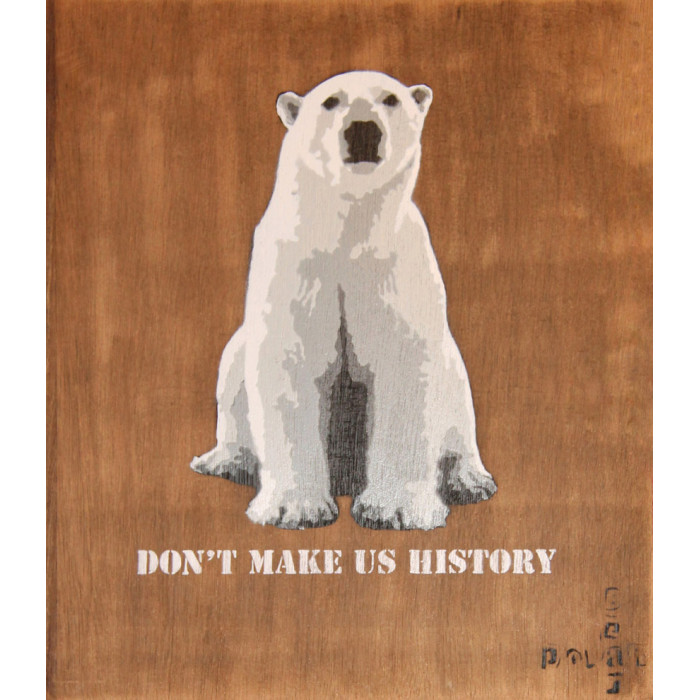 Don't make us History
Availability: This product is no longer in stock
New product
Painting on wood, 34 x 39 cm
Date : 2019
Polar Bear
Originally from Bordeaux, Polar Bear is a French street artist who currently lives and works in Paris. Street artist using exclusively stencil, he creates multi-layer stencils on the walls and on recycled materials found in the street. His creations are made from photographs and sometimes drawing. His favorite themes are childhood, utopia, nature and dreams. Some of his works convey a message of protest. Very committed to the environment, many of his works deal with this subject and especially the animal cause with endangered species. One of his emblematic aphorisms is "don't make us history", which he associates with the visual of endangered species: elephants, tigers, orangutans ...
***
Please note that you will be able to take your artwork only after December 15th 2019.
It will be exhibited by the ART'MURS association, during the exhibition "A.O.B – l'Art Œuvre pour la Biodiversité ", in a partnership with the Etablissement Français du Sang and the NOE association.
You can discover it at La maison du Don de La Pitié-Salpêtrière (12 rue Bruant, 75013 Paris), from september 25th to november 2nd, 2019, and then at Maison du Don de Crozatier (21 Rue Crozatier, 75012 Paris) from november 6th to december 14th 2019 : http://art-murs.org/expo-aob.
The association ART'MURS was created in september 2018 by a group of street art lovers. Its purpose is the promote all urban art style, to make it a way of sharing and exchange between the artists, the city and its inhabitants.
The association wants culture to be accessible to everyone. It aspires to support various artists from the urban art movement, whatever their techniques. It also aims to promote the meeting both between the public and these artists, as well as the public and their works. For this purpose, the association offers differents activities like live-paintings, exhibitions, guided art trails and workshops.
25% of the sale will be donated to the association Noé to support its actions in favor of the biodiversity.
Frenchartcollection is very happy to make available its platform to allow the sale of works that will support the cause of Noé and to raise awareness about blood donation.