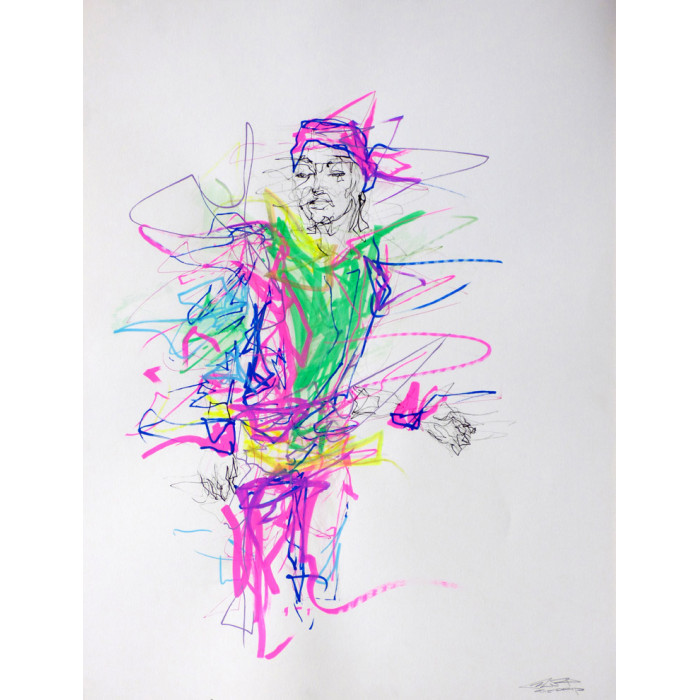 Back to 80's - drawing 5
Availability: This product is no longer in stock
New product
BUST THE DRIP.
Drawing ( Mixed techniq on paper )
Size 65 x 50 cm.
Original and unique artwork.
BUST THE DRIP was born in 1983. He lives and works in the Paris region
Bust the Drip is a French artist from the world of dance. Trained in hip hop, he is part of the group Fush Wong.
It is the vibrations of music that animate it. Recreating the movement of bodies, he associates the gesture with the projection of painting. Inspired as much by Pollock as by Mode2, his way of painting is extremely gestural, energetic; both technical and instinctive. His compositions mix spray, acrylic, pencil ... He speaks of his painting as a choreography of features and traces. The color takes shape, the drawn frequencies give rhythm. Calibrated on his vibrations, the artist returns his tempo on its support.
The musical universe is omnipresent in the work of Bust the Drip who spreads his art on the walls of Paris and the suburbs of Paris as positive waves. He started street art in early 2010. In 2015 he joined Bang Krew, a collective of artists from different worlds (dance, painting, video, photo, music ...).
Bust the drip became known by bowing and practicing the display. He has participated in several events such as "Street Art on the Rock" and "Art for Autism" in 2016, "Shakewell Festival" in Bordeaux, "Street Montmartre" and the charity festival for the fight against breast cancer in Grenoble in 2017.
His paintings have been exhibited permanently and exclusively at YAM since November 2017.