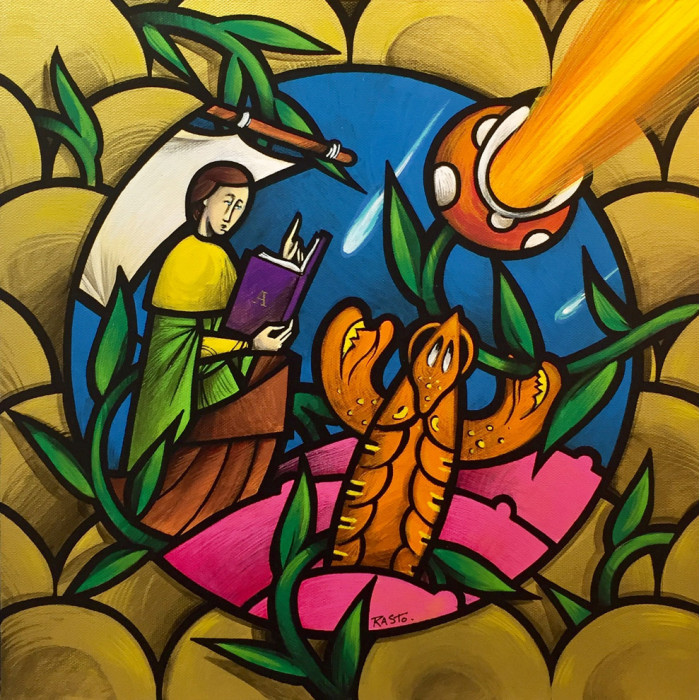 Lobster and Slime
Availability: This product is no longer in stock
New product
Jérôme RASTO
« Lobster and Slime »
Acrylic painting on canvas.
Signed by the artist.
Size of the canvas : 40 x 40 cm.
Original and unique artwork 

Born in 1978 in Perpignan.
He began painting with his father, painter. The story begins when he was child with the discovery of a book » Les Très Riches Heures du Duc de Berry « . Drawings, characters, buildings, animals, the ornamental aspect of the illumination, and especially its symbols will mark him durably. The stained-glass window which fascinates him will influence the thickness of its line, its transparencies, its colors. After a short passage at the Arts deco (ENAD) of Limoges, he continues to paint before beginning to work also in the street. He paints on various supports, canvas, walls, bulky waste, a universe mixing this medieval iconography with references more contemporary as the video games with whom he has grow up.
In 2018, he created with Ninin the exhibition "Les distiques de Ninin et Rasto" entirely composed of collaborative works in which he mingled his universe to that of Ninin in such a nested way, that these works, more than collaborations took the name of "distique" that we can translate in "couplet" (In poetry, a couplet is the union of two verses forming a complete whole by sense, for example a maxim).
See text of the exhibition
That artworks are on a specific page on our website « Les distiques de Ninin et Rasto »