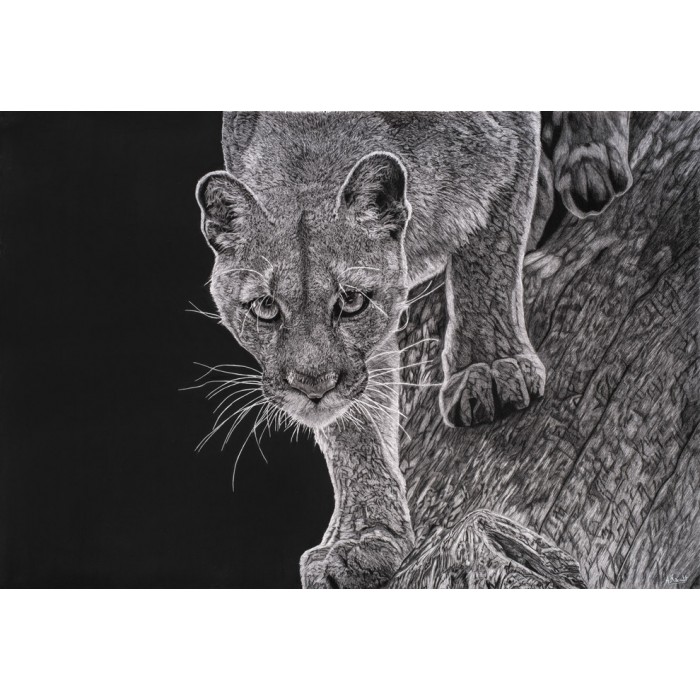 Drawing - Kali, le Puma, Vincennes
RAOULT
Availability: This product is no longer in stock
New product
/// Alexis RAOULT ///
Pencil drawing on paper.
Size: 89,5x130cm
Handsigned.
Certificate of authenticity.
/// Biography of Alexis Raoult ///
Alexis Raoult
Born in the Paris region in 1993. Young artist with an atypical career,
At 16, Alexis entered a vocational high school "Les Orphelins d'Auteuil", for young people in difficulty.
He is taught electricity.
He spends his time drawing in his notebooks.
At 18, he left everything and moved to Brittany. He then saw odd jobs, always scribbling notebooks.
Since 2012, he has devoted himself to drawing and speaks of a "chain of emotions".
His drawings allow him to express himself, to assert himself, to talk about what touches him.
His work is tedious and meticulous.
His very realistic drawings, only in pencil, in black and white, give pride of place to emotion.
It only represents animals. He very accurately transcribes their gaze, their attitudes, which call out to people and thus create a closeness between man and animal.