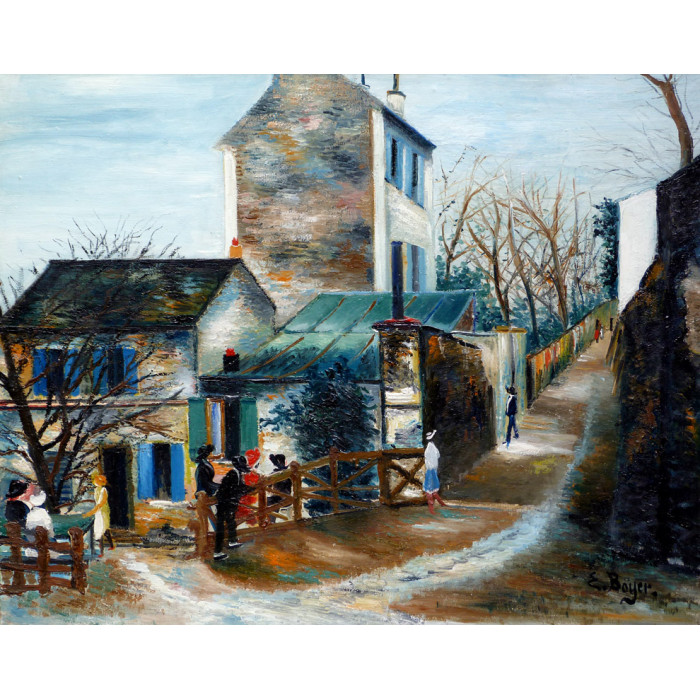 Émile Boyer - The Cabaret Le Lapin Agile in Montmartre Paris
Availability: In Stock
New product
ÉMILE BOYER
Original Oil on canvas
Date : circa 1920
Handsigned bottom right
Size : 65 x 81 cm

Exhibitions : 
• 1994 - Japon - " Modigliani et les artistes de Montmartre". [ reproduit dans le catalogue ].
• 2019 - France - " Utrillo, Valadon, Utter et les Peintres de Montmartre". [ reproduit dans le catalogue ].
Biography :
Painter. Paris (Halles) June 30, 1877 - Montmartre August 18, 1948. Son of Joseph, Parisian biffin, and Victorine Demanet, born in Sedan. He began his working life by delivering newspapers and then worked in other small jobs. Married to Andrée, an embroiderer from Caen Wasted by a machine in the exercise of his job as a printer. He established himself as a dealer on the Place du Tertre in what was, according to Gen Paul, "a warm creamery for the pilgrims." On November 25, 1913, according to the register of the Prefecture of Police, the stall of Boyer, a "traveling brocante", stood between Le Cadet de Gascogne and Mother Catherine, and today bears the sign of the "Singe qui lit". [ The reading monkey ]. As the barge became scarce, it added a trade of chips and hot chestnuts, thus establishing a local tradition. Boyer exchanged pictures of Utrillo for bottles of wine supplied by his brother. Seeing the success of the son of Suzanne Valadon, he came to painting, about 1913. True naive to the primitive drawing, he copied postcards, in the style of his friend. He also became close to Modigliani, and later to Leonardo Foujita, who was sensitive to his sense of color and his authentic side. Boyer sold the aquatintes of Gen Paul in his shop, hung by clothes pegs on a string. He made the portrait of Foujita, which is now at the National Museum of Modern Art in Tokyo. Irritated and jealous of Utrillo's success, he began to paint a few canvases, which he signed in the name of his friend, and mixed them with the truths which he was accustomed to sell. These fakes these days are easily detectable. He exhibited at the Chéron gallery in October 1922, Maurice Raynal made the preface of his catalog, and at Bing in March 1926. Boyer was supported and bought by Wilhelm Uhde, Princess Murat, Paul Guillaume, Princess Aga Khan and Saincène. It was his pompous period "he had a villa at sea, two cars, a chauffeur" had written Pierre Bureau in his book on Leprin, which seems very exaggerated according to his family. In 1973, the Musée de Montmartre made him an exhibition, as well as the Galerie Bernheim, and the Galerie Dechaudin.