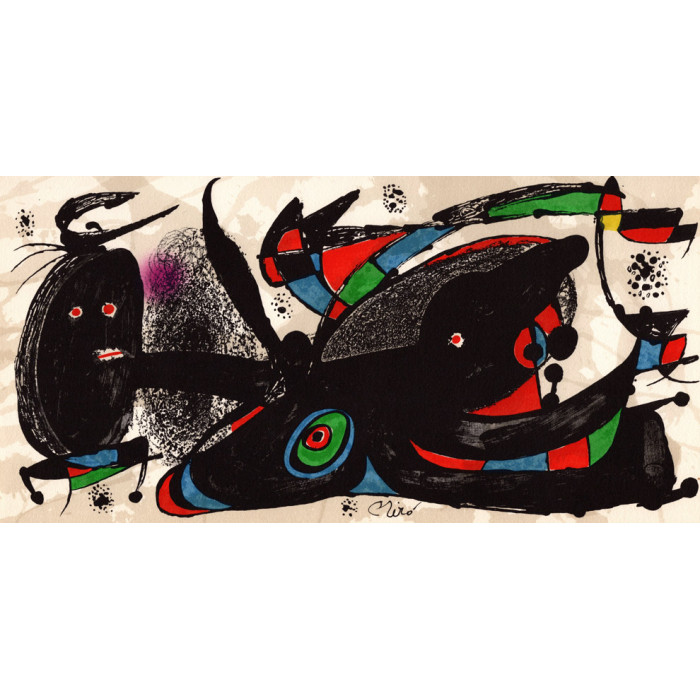 Abstract Composition
Availability: In Stock
New product
Joan MIRO 1893-1983 
Original Lithograph made by Joan Miro in 1974.
Signed in the plate 
Size of the lithograph : 20 x 40 cm
From the edition of 1500 bearing the plate signature of Miro 
Catalogue Raisonné : PatrickCramer "Joan Miró Lithographs"  N°190s 
Editor : La Poligrafa, S.A., Barcelona 
Joan Miro:
After having studied business then having attended three art schools where he discovered fauvism and post-impressionists, Miro arrived in Paris in 1919. From a simple trip, He ended up settling in the capital. Close to Picasso, he discovered cubism, he also encountered the Dadaist milieu and the avant-garde. Very quickly, surrounded by his friends Max Jacob, André Masson, Yves Tanguy, Jacques Prévert, Aragon, Paul Eluard (etc), creates a veritable intellectual meeting. He says that it was then, with these people, that he discovered all that he was, all that he would become. He feels comfortable with quirky humor and a taste for the imagination of the surrealist current. He signed the surrealist manifesto and became one of its main representatives. The unconscious and the dream world are now his sources of inspiration.
Miró painted works populated by women and birds, stars and comets. The painter, for whom form is always the sign of a reality, did not consider himself an abstract.
He wants to be free in his painting.
It was in 1925, when he presented, during an exhibition, "Le carnaval d'Arlequin", a purely surreal work, that he became known worldwide.
In the 1930s, his works were exhibited in the United States, where they were well received. The painter detaches himself from the Parisian surrealists, even if he continues to participate in group exhibitions. In the 1940s, he became a master, so that the Museum of Modern Art devoted a retrospective to him in 1941.
In the past few years, Miró will be called upon to participate in major projects in Europe and the United States.
Miró has never ceased to be celebrated and rewarded with great international prizes, and his reputation was mainly made in the United States, before shining in Europe. In 1975, the Joan Miró Foundation opened its doors in Barcelona, ​​with the help of a large fund bequeathed by the painter.