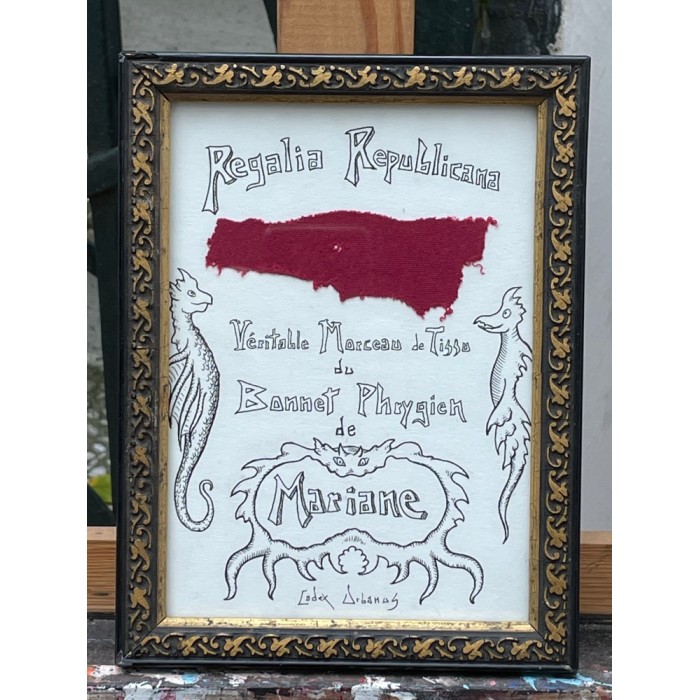 Clemenceau - Regalia Republicana
Availability: In Stock
New product
/// CODEX URBANUS ///
"Clemenceau - Regalia Republicana "

Original drawing.
size including frame: 20 x 15 cm.
With certificate of authenticity.
/// Codex Urbanus - Back from Clemenceau's Museum ///
Every year, the street artist Codex Urbanus, known for his shady chimeras drawn directly on the walls of Paris, tries to exhibit in an institutional place where street art is a priori unexpected. After the Musée National Gustave Moreau, the Musée des Égouts in Paris or the Château de Malmaison, it was in the apartment of Georges Clemenceau, left intact when he died in 1929, that Codex Urbanus released its critters.
It is therefore a menagerie of dozens of creatures that are scattered throughout the 19th century interior of Le Tigre to offer an offbeat tour and discovery (or rediscovery) of this time capsule nestled in the heart of Paris. But what will become of these chimeras once the ephemeral exhibition is over? Well you can adopt them...
From Thursday February 10 to Sunday February 13, only (!!!), the Roussard Gallery is offering a re-hanging of the Codex Urbanus exhibition within its walls, in order to discover these strange creatures up close, and - who knows? - to leave with one of them, in order to keep track of this exceptional moment of encounter between Street Art and the Tiger.
Opening on Thursday February 10 from 6 p.m. to 9 p.m. and closing ceremony on Sunday February 13 from 4 p.m. to 7 p.m.
We look forward to seeing you in the 18th arrondissement, of which Clemenceau was mayor, at the top of the Montmartre hill - for this last chance to see the exhibits. And if you find that the stairs of the hill are painful, remember this quote from Georges Clemenceau: "The best moment of love is when you climb the stairs"....
/// CODEX URBANUS ///
Parisian street artist.
Night after night, the pages of a weird bestiary turn on the cement walls of the City of Lights. Some impossible creatures walk, fly and crawl, like illuminated medieval images, to generate surprise and poetry in the streets of Paris, before being rapidly recovered by the cleaning services of the Paris townhalls.
Codex Urbanus created an endless range of mutant animals, aware of their extremely short life span, just like an urban vanity.
Beyond the bestiary, the art of Codex Urbanus appears on more complex walls, where ancient symbols unfold on golden backgrounds, like sacred icons. And sometimes, on paper, he makes India ink drawings and, on canvas, he makes paintings on a beige Paris anti-graffiti bottom.
Codex Urbanus does not have any artistic background, but has been drawing as soon as he knew how to hold a pen, in his school notebooks, during corporate meetings or simply doodling on whatever piece of paper he would find. It's only when he left the harsh world of companies that he had to find a way to express himself without paper. Quickly doodling on walls like some alchemic vandal became the solution, following the example of several graffiti and street artists before him.
The art of Codex Urbanus comes in different ways and fits in the diverse and ever-changing persona of the Paris street art scene.