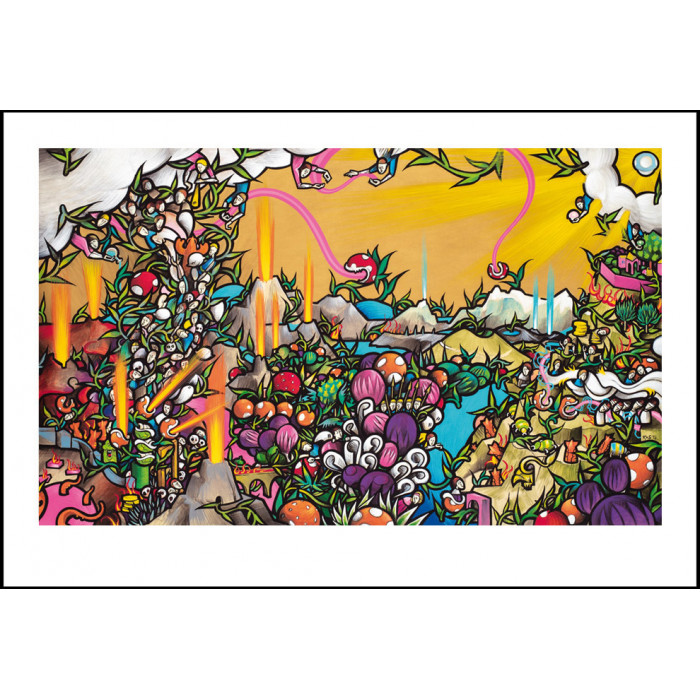 La Divine Comédie : Print
Availability: This product is no longer in stock
New product
Jérôme RASTO

The print handnumbered and handsigned by the artist
"The Divine Comedy Map" or " World Map"
Size 26 x 19 cm
HandSigned and Handnumbered by the artist.
Certificate of authenticity.
Jérôme RASTO, Biographie
Born in 1978 in Perpignan.
He was initiated into painting by his father, a painter.
The story begins with the discovery when he was a child of books like "Les très Riches Heures du Duc de Berry". The drawings, the characters, the buildings, the animals ... the decorative aspect of the illumination, and above all its symbols, will leave a lasting mark on him.
The stained-glass window that fascinates him will influence the thickness of his line, its play on transparencies, its colors.
After a brief stint at Arts Deco (ENAD) in Limoges, he continued painting in the studio before also starting to work in the street.
He paints on different supports, canvases, walls, bulky, a universe combining this medieval iconography with more contemporary references such as that of the video games with which he grew up.
The universe of Mario Bros is an inherent part of his work.