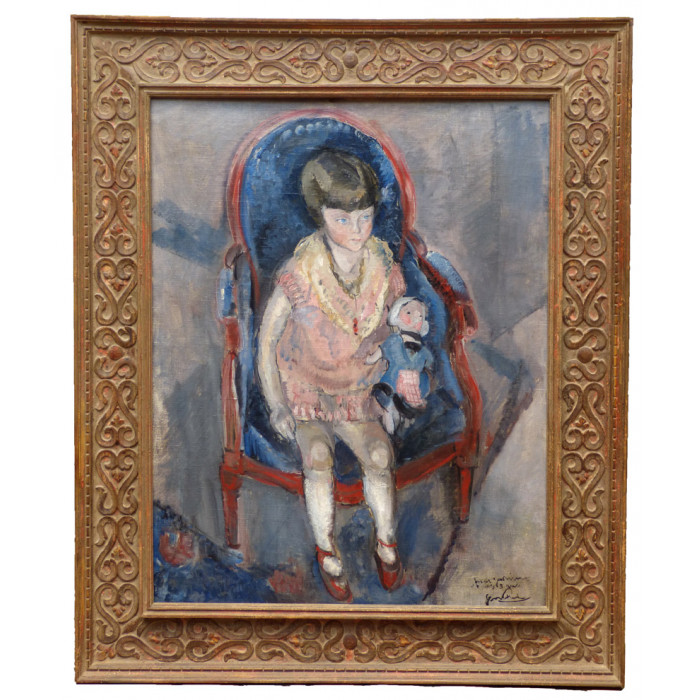 Painting: Jeanine Warnod at 3 years old. Probably one of the most historically significant painting by Gen Paul.
GENPAUL
Availability: In Stock
New product
///////// DESCRIPTION /////////

Portrait of Jeanine Warnod.
This oil on canvas symbolizes the relationship between André Warnod and Gen Paul and later between Gen Paul and Jeanine.
André Warnod is the historian of the Bateau Lavoir and the School of Paris. It is moreover to him that we owe this last expression.
"It was on January 27, 1925 that André Warnod used the expression" École de Paris "for the first time in France, in an article in the literary review Comœdia (founded by Gaston de Pawlowski in 1907). he group of foreign artists who arrived in the capital at the beginning of the twentieth century in search of favorable conditions for their art. From 1900 to the First World War, Paris saw an influx of artists, often from central Europe. them, Chagall, Picasso, Kremegne, Chaïm Soutine, Pascin, Amadeo Modigliani, Kees van Dongen, Moïse Kisling, Alexander Archipenko, Joseph Csaky, Ossip Zadkine and Tsugouharu Foujita, to name only the most famous. "In Wikipedia.
One morning in 1922, André Warnod met Pascin with whom he remained intimately linked; this took place at the famous restaurant Chez Manière 65, rue Caulaincourt, Pascin was at N ° 73, Warnod at N ° 60 since the birth of his daughter Jeanine in 1921. The famous restaurant was the meeting place for artists, the only literary café de la Butte with, later, the Cyrano, Place Blanche next to the Moulin Rouge, where the surrealists met. Galtier-Boissière, Marcel Duchamp and his brothers, Derain, Roland Dorgelès, Madeleine Anspach, Creixams and many others had their habits at Manière. Warnod experienced the beginnings of Cubism at the Bateau-Lavoir with the Picasso gang and those of Futurism.
Pascin painted the portrait of Jeanine when she was 3 years old, in May 1924.
Jeanine Warnod recounts: "Gen Paul, an unusual character, was one of the friends of my father's house. I knew him when I was young, my playground was in the Maquis and I saw him often. Limping there, he impressed me a lot. One day, in 1924, he proposed to my father to paint my portrait, which did not delight him because he had kept the memory of the portrait of Pascin which had been a painful ordeal (NB Car the child was very agitated.) My parents finally gave in, I was three years old and I was wearing a little pink satin dress. " It was a wise, quality portrait.
In April 1975, so shortly before his death, Jeanine Warnod returned to see Gen Paul in his apartment: "I found him weakened on a pallet in his usual disorder, the ashes of his cigarettes scattered on the floor. hadn't painted for some time but continued to draw, sketch and travel souvenirs to the United States or Spain. We were talking about her neighbor Suzanne Valadon who had lived a little further down Avenue Junot. Both were from the region. same temper, characters from novel or realistic film. Witness to the adventures of her son Maurice Utrillo and her husband André Utter, Gégène had become his confidant in his solitude ".
(© Text in "Gen Paul la Biographie" by André Roussard).
Oil painting on canvas.
Size without frame: 92 x 73 cm.
Frame included.
Signed lower right.
Sending "For Jeanine at 3 years"
Date: October 1924
CERTIFICATE OF AUTHENTICITY BY JULIEN ROUSSARD, SPECIALIST OF GEN PAUL.
///////// PROVENANCE /////////


- Collection André Warnod, France
- Collection Jeanine Warnod, France
- Private collection, France.
///////// BIOGRAPHIE /////////


Gen Paul
born in Montmartre in 1895, died in Paris in 1975. He is one of the greatest French expressionist painters and has produced several works during his full expressionist period considered as masterpieces.
His career began on the Butte Montmartre, initiated by great artists who lived there and that Gen Paul meets in this village: Frank-Will for painting, Eugène Delâtre for engraving.
His career is divided by all historical observers and art critics in four periods and will be marked from the beginning by the injury of Gen Paul during the First World War, which caused him to lose his right leg.
It is from 1924, that Gen Paul initiates a solitary evolution, and enters its full Expressionist period where it heckles the subjects and comes to create a personal form of expressionism of the movement, extremely gestural, based on the emotion and intensity, which will make it one of the greatest French expressionist painters. Faces and characters take on more and more importance, especially hands.
Until September 1930, he traveled, worked constantly, seized with a kind of creative frenzy. The Bing Gallery, one of the most important in Paris, exhibits him in 1928 with his contemporaries Picasso, Rouault, Braque, and Soutine. Bing in a long text devoted to Gen Paul explains the importance of his painting and his talent. He paints musicians that we can feel playing, impressive portraits, as well as Basque landscapes, views of Montmartre where everything comes alive, is moving.
Exhausted by a life too intense, undermined by alcohol and an infection contracted in Algiers, Gen Paul collapses as he passes through Madrid in 1930, and will not find the same energy in his painting. But he will continue to realize works of great importance. Observer of his time, he captures the evolutions of his time, and is a precursor of American Abstract Expressionism.
We can not talk about Gen Paul without mention his strong personality that will have marked all the people who attended him or even crossed him. In his studio was a kind of cenacle on Sunday morning; the whole Paris went there, comedians, musicians, doctors, writers, painters ...
Hospitalized in 1975, he died of cancer the same year.  A sublime retrospective was dedicated to him in 1995, on the occasion of the centenary of his birth, at the Couvent des Cordeliers in Paris. Directed by André Roussard and Carlo a Marca, this exhibition brought together a hundred or so expressionist works from the second period (1924-1930), considered as masterpieces of painting. The Gazette of the Drouot Hotel commenting on the exhibition qualifies the painter as follows: "Gen Paul is undoubtedly the greatest representative, and perhaps the only, expressionist of the French tradition".  André Roussard was one of the main merchants of Gen Paul. He organized the biggest exhibitions dedicated to him after his death, and wrote his biography in 2006 considered as the only text of historical reference of quality.  
His son, Julien Roussard, is today the reference person in the field, taking over from his father who died in 2013. He is a specialist in Gen Paul.  He organized several exhibitions of Gen Paul and the exhibition "Pre-War / Post-War" in October 2012 which was the main personal exhibition organized by an art gallery for Gen Paul. More than one hundred artworks representative of all the artist's periods have been shown in two places, thus offering a complete panorama of the work of Gen Paul.