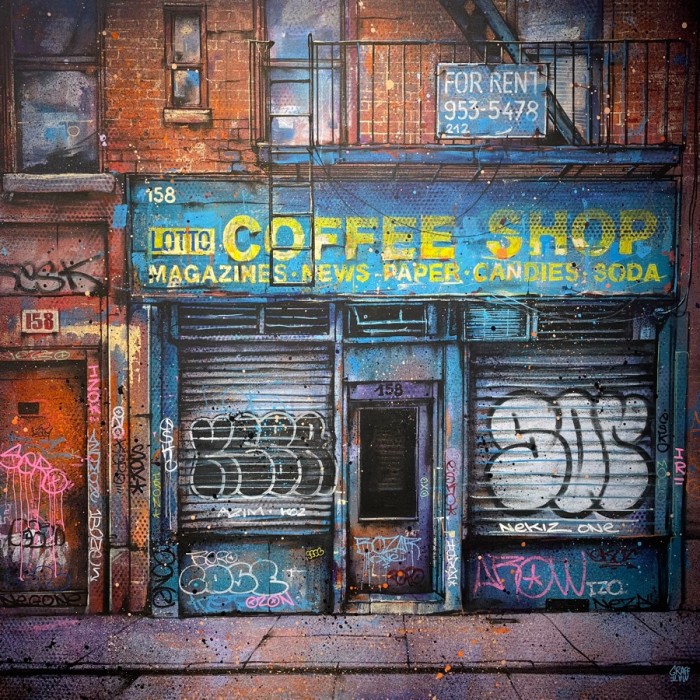 Graffmatt - Coffee Shop
Availability: This product is no longer in stock
New product
/// GRAFFMATT ///
Dimensions: 80x80cm.
Technique: Spray paint and marker on canvas
Original artwork.
Certificate of authenticity.
/// Biography of GRAFFMATT ///
Born in 1986 with a pencil in hand, GRAFFMATT is a French artist who hails from Chambéry, in Savoy. A 2006 graduate from the La Martinière-Diderot art school (Lyon), he first specialised in graphic design and video but soon made painting his spearhead. He devides his time between self-initiated work and commissioned works, without losing his artistic personality. 
Passionate about street art and Hip-Hop culture, GRAFFMATT explores many artistic fields and different media (collage, kraft, cardboard, canvas, etc.) with the urban scene always being his main source of inspiration. He is also inspired by street fashion, designated under the name of street style fashion trend. Even if his preference goes more to the model than to the style of dress, GRAFFMATT focuses on authenticity, like a candid shot, with no devices other than the natural appearance and outside light.