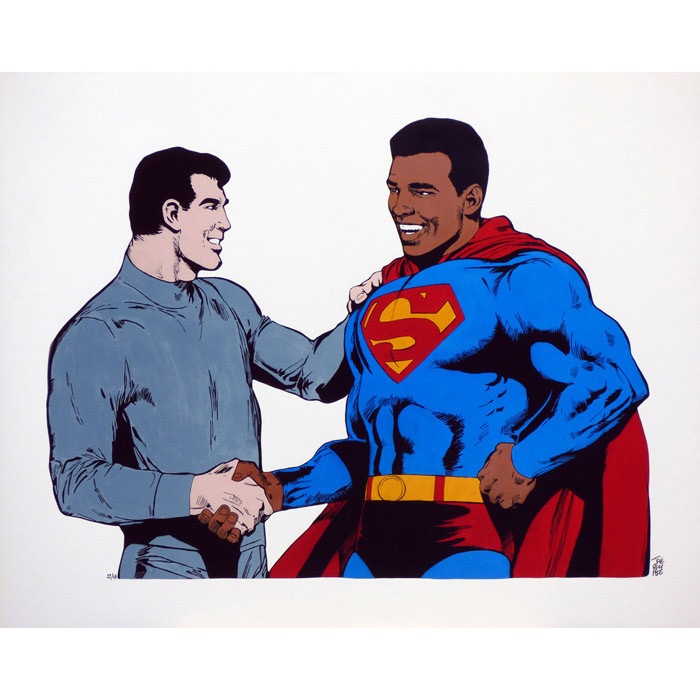 Black Superman - Limited edition Muhammad Ali et Clark Kent
JAERAYMIE
Availability: In Stock
New product
/// JAËRAYMIE ///
"Black Superman"
Original limited edition in 2017.
Numbered by the artist.
Edition of 48 proofs + 12 Artist proofs
Handsigned by the artist.
Size without margins: 50x67cm
Size with margins: 61x77cm
/// BLACK SUPERMAN ///
"Black Superman" is the limited edition made from Jaëraymie's second work done apart from his work as a street artist, and his first work entirely painted on wood.
Comic book enthusiast and a boxer himself, he used iconic characters from his childhood and a famous comic book image that he hijacked to convey a message.
The original image is of Superman shaking hands with Muhammad Ali in the 1978 comic book "Superman vs. Muhammad Ali".
In Jaëraymie's artwork, Muhammad Ali dons the costume of a superman, while superman wears the clothes of Muhammad Ali. This exchange of outfits allows him to elevate Muhammad Ali to the rank of superhero of our reality because for him he is the real superhero of the 20th century.
Jaëraymie also made a similar work at Wynwood Walls, Miami, USA, in January 2018, on a large wall of a boxing club.
/// Biography of JAËRAYMIE ///
JAËRAYMIE is a Parisian Street artist born in Paris in 1986, he lives and works in Paris. He is a self-taught artist who began practicing urban art in 2016. Street Artist adept at collage and stenciling, he intervenes in public spaces to surprise passers-by, make them react to a news item, convey an emotion to them. or just make them smile. He started street art in 2016. He first made a name for himself with his election poster pastiches during the 2017 presidential elections, and then rose to prominence with his series "Romanticism is a man's thing". After a long stay in the United States for the project "Excuse my fresque", in Paris, he responded to the request of the Embassy of the Czech Republic in France to make a wall on the Champs de Mars on the occasion of the commemorations of 1918-1968 for which he accompanied his visual with a quote from Kundera. Among his most striking achievements, we should also note his 11-meter-long wall made for Women's Day to raise awareness of street harassment, a wall spontaneously legalized a posteriori by the mayor of the 11th arrondissement of Paris. Then his series "The idiomatic expressions" for which he made 30 works on the Parisian walls and 30 works distributed in different provincial towns in the four corners of the hexagon. A book tells the genesis of this series and its history. Oscillating between lightness and gravity in the subjects he discusses, he is never aggressive or peremptory. His works bring, for many of them, a singular, biased, ironic and paradoxical look at our society.