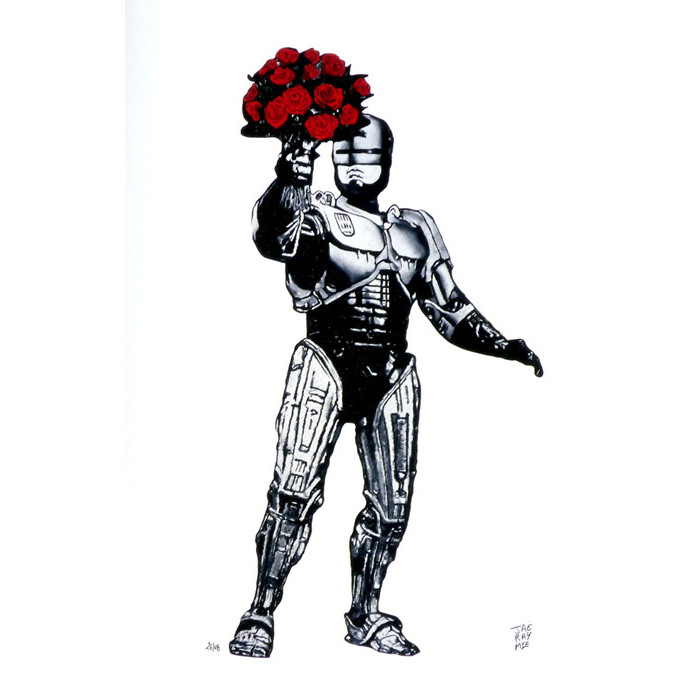 Le romantisme c'est un truc de cyborg
Availability: In Stock
New product
JAERAYMIE

"Le romantisme 
c'est un truc de cyborg "

Print Original
Signée en bas à droite
Numérotée en bas à gauche sur 48
Dimensions: 61 x 45 cm.
3rd Print of the series "Le Romantisme C'est c'est truc de Bonhomme". After the success of prints representing Clint Eastwood in "Dirty Harry" and Louis de Funès in "Fantomas".
"Romanticism is a Bonhomme trick" is the aphorism which made Jaëymie known and by which it encourages men to be gentlemen with women, true male courage for him being to dare to confess his feelings.
Jaëraymie is a Parisian Street artist, born in Paris in 1986. Self-taught, he began practicing urban art in November 2016. Street Artist adept at collage and stencil, he intervenes in public spaces to surprise passers-by, make them react to a news item, convey an emotion to them or simply make them smile. He is the author of the aphorism "Romanticism is a good man's trick" in which he denounces machismo as a demonstration of virility, inviting men to be gentlemen with women. This sentence is accompanied by images from famous films where he replaces the guns with red roses. It was with this stencil and the "Romantics Club" collage series that he made himself known. Active within Parisian Street Art networks, Jaëraymie does not hesitate to collaborate with other artists to develop "special" projects. This is the case of the pastiches of electoral posters in collaboration with Combo in Paris for which he presented the posters of "Marion Cotillon", "Jean Gentilhomme" and "Juste Le Blanc" in order to raise public awareness of the question of the vote. during the 2017 presidential campaign. This campaign of misappropriation of posters was relayed by media such as BFM TV, Le Figaro.Fr, le Figaro.fr culture, 20minutes.fr, Huffington Post, France 3 Grand Soir… Oscillating between lightness and serious in the subjects he addresses, he is never aggressive or peremptory. His works bring, for many of them, a singular, biased, ironic and paradoxical look at our society.